LOUGHINISLAND'S U-11.5 side travelled to Holywood in their second game of the season yesterday following last weekend's opener against Saul – and what a game it proved to be.
The young Blues played in glorious sunshine and the match turned out to be a most enjoyable encounter for players, spectators and coaches alike.
St Paul's made the most of home advantage and assumed control of the opening exchanges, however some outstanding saves from Conan Mulholland coupled with some resolute defending from the tigerish Ronan Hodge, Ryan Dornan and Torrin Donnellly kept the game close.
At the other end a hard working and industrious half forward pairing of Eoin Kelly and Noah O'Toole worked tirelessly in possession.
Both players also managed to register crucial scores during this quarter to keep the Blues in touching distance of their opponents. Eoin scoring a super solo goal and Noah a lovely curling point following some great link up play.
Following the first water break, the Loughinisland lads dominated the midfield exchanges with Conor Doran, Eoin Keenan and Richard McKeown getting to grips with their markers and starting to win consistent balls to supply the forwards.
Conor Doran broke forward excellently to score a great point from play with Noah O'Toole adding another from a free.
In defence, the introduction of Nathen Killen bolstered the Blues back line, whilst the fresh Reilly McKibben foraged tenaciously in attack, turning over his opponents on a number of occasions and winning great possession.
The half time whistle came too soon for the Islanders.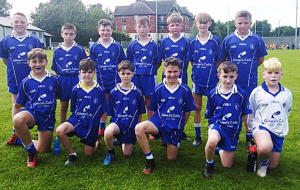 Following the start of the second half Loughinisland complimented their great tackling and hard work with some lovely build up play from defence.
Caolan Valentine's laser-like accuracy from kick-outs proving a major benefit to visitors. This third quarter was a purple patch for the lads with Reilly McKibben, Ryan Dornan (yes, the full back) and midfield maestro Eoin Keenan all registering points, while Conor Doran, now partnering Eoin in midfield, would add a further goal and point to the Blues' scoreline.
The ferocious tackling and tracking back of Eoin Kelly, Noah O'Toole and Conan Mulholland set the tone throughout this period.
Throughout the game, the presence of Eoghan O'Neill in attack was a great outlet for the lads, Eoghan's ability to carry possession and bring his team mates into play proving central to the team's great play. He was supported throughout by Richard McKeown, who was the rock in the visitors' half back line for the second half of the game.
In the final quarter, St Paul's rallied their team and chipped in with some super scores. Conan Mulholland added a free for Loughinisland to keep the scoreboard ticking over.
The game was end-to-end in every sense, with the players giving a super account of themselves. Congratulations must go to St Paul's on getting the victory on the day.
Well done to each and every member of today's squad – a superb effort by all.
Loughinisland: Conan Mulholland, Ryan Dornan, Ronan Hodge, Conor Doran, Torrin Donnelly, Caolan Valentine, Richard McKeown, Eoin Keenan, Eoin Kelly, Noah O'Toole, Eoghan O'Neill, Reilly McKibben, Nathen Killen
• Training on Thursday at Macartan Park at 5.45pm and health checks are to be submitted no later than 5pm on the day.