CONGRATULATIONS to the Loughinisland's U-12 girls who completed their League campaign with a brilliant display in the final home game against Teconnaught.
Manager Emma Gordon has been impressed with their work ethic and support play in all their games this year, from a tough opener away to Bryansford, two hard fought challenges with Saul and Carryduff at home, and away to Bredagh.
This is an extremely difficult league, but the girls took on these challenges with pride in their jersey and a positive attitude from all.
Ava Cassidy, Grace Gordon, Rachel Hodge, Lucy Johnson, Anna Magorrian, Aoife Mason, Sinead McKeating and Alana Rogan are playing for their third year with Loughinisland girls, having started in the development squad in 2018 participating in the U-12 league last year, and they have shown serious improvement in skills and match play every year.
The team was also bolstered by some fantastic new recruits this year who have integrated seamlessly to the team, proving it's never too late to start.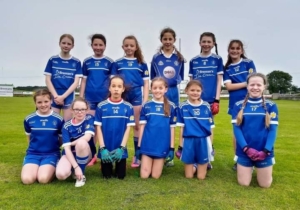 Well done to Cora Cunningham, Anna Miskelly, Gabriella Roberts and Sophie Savage.
And, last but not least, thank you to our U-10s who also stepped up to the higher grade this year – Annalise Campbell, Katie Gibney, Anna O'Neill and Sarah Uhoimoibi; their younger age didn't impact on their determination, and we couldn't have competed without them.
Best wishes to those players moving up to the U-14 grade next year, and for those remaining at U-12 we hope for another year of great football and camaraderie.
New players are always welcome at all ages, if you wish to join Loughinisland girls next year please get in touch with Alan Molloy, Emma Gordon or Lorraine Colgan.